Jun
20
Sat
Peripheral Vision Speaker Series: Online
Tickets
Peripheral Vision Speaker Series: Online
Did you know that the 2019 Peripheral Visions Speaker Series lectures are available online? Check out the Peripheral Visions Speaker Series website for more information regarding the series, featured speakers and ongoing work!
Running from January 2019 to March 2019, the Peripheral Vision Speaker Series presented scholars/artists working within critical disability and Indigenous frameworks to address vision, blind epistemology and art, crip technoscience, and Indigenous visioning practices. The series explored and critiqued the primacy of vision, problematizing the normalcy of 'perfect' vision, and worked to innovate blind and multi-sensory ways of knowing.
Curated by Mary Bunch, Laura Levin and Lauren Sergio the Peripheral Vision Speaker Series was hosted by York University's Sensorium: Centre for Digital Arts and Technology in the School of Art, Media, Performance and Design. The series was sponsored by SSHRC, CREF, VISTA -Vision: Science to Applications, The Departments of Theatre and Cinema and Media Arts, the Performance Studies (Canada) Speaker Series and the Graduate Program in Critical Disability Studies. Other partners included Bodies in Translation: Activist Art, Technology and Access to Life, Tangled Art + Disability, and the New College Disability Studies Speaker Series at the University of Toronto.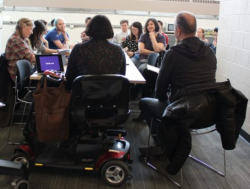 The Llandovery Castle: Watch Now on YouTube
Tickets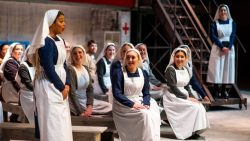 THE LLANDOVERY CASTLE
Watch now on YouTube

Watch the first fully-staged production of The Llandovery Castle on YouTube.
The opera brings to life an important an important but little-known part of Canadian history. It is a beautifully-expressed tribute to Canadian nurses in particular, and healers in general who for millennia have put themselves in harm's way to serve their communities and humankind.
Grab your favourite snacks, find a comfy seat, and get ready to experience York University Department of Music Professor, Stephanie Martin & York University Alumni, Paul Ciufo's joyous and inspiring music drama.
EVENT INFORMATION
THE LLANDOVERY CASTLE
YouTube Event Link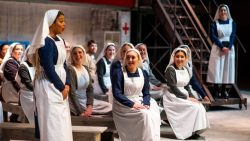 ABOUT
The opera centres on the 14 nurses of the hospital ship Llandovery Castle who served in harrowing circumstances throughout the war, their care and compassion contrasting with the chaos and violence surrounding them.
With music by Stephanie Martin and libretto by Paul Ciufo, the opera spotlights in particular the lives of Minnie 'Kate' Gallaher and Rena 'Bird' McLean, the latter traumatized by earlier battlefield-area nursing, and her quest to prove herself ready to return to the Front. Bird seeks to convince her superior, Matron Margaret 'Pearl' Fraser, that she is strong enough to serve close to the action once more, little imagining the fatal turn their assignment would take.
The music of The Llandovery Castle skirts boundaries of genre and style. Scored for a sonorous classical chamber orchestra and nine singers, it has been described as "a modern flirtation between baroque, classical, traditional and popular genres." Composer Stephanie Martin describes this operatic style as "21st-century bel canto", focused on the narrative and expressive power of the human voice.
Jun
22
Mon
MobilizeYU Knowledge Mobilization Course
Tickets
The Knowledge Mobilization Unit is pleased to announce a new 8-week self-directed online version of our MobilizeYU course!
Participants will learn about knowledge mobilization planning, effective ways to share academic research with society and how to measure and communicate the impacts of their research.
Knowledge Mobilization Unit staff, along with guest speakers will be covering topics such as, Knowledge Mobilization Planning; Clear Language Writing and Design; Impact and Evaluation; and Building Partnerships.
The course will take place from June 22 to August 14 using a private online platform and is free for all York faculty, graduate students and staff.
To learn more, please visit http://bit.ly/MobilizeYU