Aug
10
Tue
Intervening on Racism
Tickets
Aug 10 @ 10:30 am – 12:00 pm
Please note that we strongly recommend participants to have attended at least one of the workshops above before attending this session. 
This workshop will be highly participation-based, and ask attendees to design strategies and practice tools to intervene on moments of racial discrimination, harassment, and microaggressions. Prior familiarity with these concepts is recommended.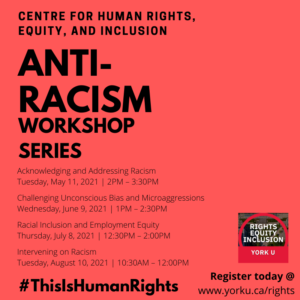 Aug
17
Tue
The Construction and Maintenance of Systemic Racism
Tickets
Aug 17 @ 1:30 pm – 3:00 pm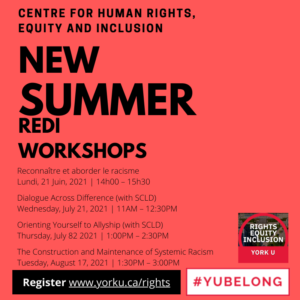 This session will explore the history of race and racism and how it is maintained today in institutions across Canada. This workshop is designed to complement the anti-racism REDI series and is heavily information focused, aiming to give context to what is happening in our world today. Unlike other REDI sessions, the emphasis is less on skill-building and more on awareness-building and we strongly encourage participants to take this session in conjunction with other anti-racism workshops with a more action-oriented content.