May
17
Mon
Globally Networked Learning: Faculty Drop-In Consultations
Tickets
May 17 @ 10:00 am – 11:30 am

Individual Consultations for YorkU Faculty Members
Are you a York University faculty member or Partner who is interested in student-centered learning and open pedagogy? Are you planning to develop and mount a GNL course? We are excited that are you planning to engage in a GNL-enhanced course this year and we would love to support you!
The GNL team is available Mondays from 10 to 11:30am via Zoom. Reserve a slot to ask your questions and work through your ideas.
To prepare for the session, we invite you to review the following resources:
Student Accessibility Services Information Session for Mature Students
Tickets
May 17 @ 2:00 pm – 3:00 pm
Do you have questions about Student Accessibility Services? Do you want to know what academic accommodations we can put in place for mature students with disabilities and how to access these supports? We will give an overview of our service and answer your questions about accessing disability related academic accommodations at York.
Register in advance for this meeting: https://bit.ly/3aZ2DgV
After registering, you will receive a confirmation email containing information about joining the meeting.
May
19
Wed
Prepare for YorkU: Health Insurance Basics
Tickets
May 19 @ 9:30 am – 10:30 am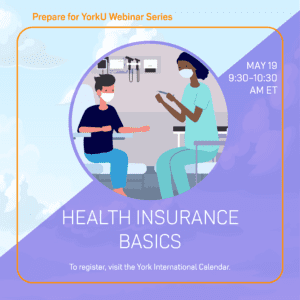 Get info about UHIP coverage, where to find a doctor, how to pay for medical expenses with UHIP. Basic health insurance vs extended health coverage and resources for health and well-being at York.
Note: The sessions are virtual and a Zoom link will be sent directly to those who register.